Kvichak River, Alaska Fishing Lodge for Rainbow Trout, Arctic Char, Arctic Grayling, Salmon, Northern Pike, Lake Trout
Alaska's Finest Fly Fishing Lodge
"The willingness of No See Um Lodge's team is to provide the best for their guests – both on the water and at the lodge – have put the lodge in a class by itself . . . truly Alaska's Finest Fishing Lodge!"
No See Um Fly Fishing Lodge
No See Um Lodge is located in south western Alaska, nestled on a high bank overlooking the Kvichak River. With less than a 30 minute flight each way there is several fisheries. We offer 3 DeHavilland float plans that allow access to over 30 rivers and streams. Each day, you choose where you fish. Our fishing guides are here to help you create your own experience in Alaska.
Our lodge is a family-run operation that was established by Jack Holman in the early 70's. Today his son, John, who is both a pilot and a guide, maintains No See Um's well-earned reputation for pampering and pleasing its guests. John has been living, fishing, guiding and flying in Alaska for most of his life. Everyone at No See Um is anxious for your trip to Alaska to be the trip of a lifetime. With our guides knowledge, enthusiasm and instruction ability, they will ensure success for the novice and expert fisherman who visit.
Fishing In Wasilla, Alaska
Many of the rivers and streams that we visit are designated to fly fishing only. The fly fishing method is the most effective method for catching many of our native fish.
With 3 million lakes, 3,000 rivers, and 6,640 miles of coastline, Alaska provides anglers with exciting, challenging, and almost limitless opportunities for great fishing adventures. The following are the species you will have the chance to fish in our waters:

Rainbow Trout, Arctic Char, Arctic Grayling, Chum Salmon, Chinook (King) Salmon, Sockeye (Red) Salmon, Pink (Humpy) Salmon, Silver (Coho) Salmon Fly, Northern Pike, Lake Trout
Alaska is known for changes in the water and weather. With that being said, fishing varies drastically throughout the state, as different terrain, environments, and even climates shape the experience. Below are the seasons of the best time to catch certain fish.
All Season: Rainbow Trout, Dolly Varden or Char, Arctic Grayling and Northern Pike.
Mid June thru End of July: King or Chinook Salmon
Late June thru October: Sockeye or Red Salmon
Late June thru late August: Chum or Keta Salmon
Late July thru Mid- September: Silver or Coho Salmon
Varies: Pink Salmon or Humpy


5 Alaskan Fly Fishing Rivers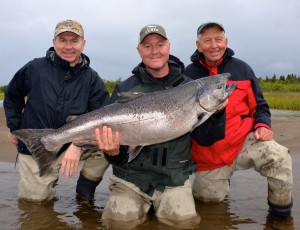 The Kenai River: running more than 80 wild miles through the Alaskan panhandle to Cook Inlet.
The Talachulitna River: the clearest river in Alaska where you can count the fish swimming by.The Copper River: runs long for 300 miles out of the Wrangell and Chugach Mountains.
The Alagnak River: where folks like the 69-mile run for whitewater adventures or perfecting casting skills over the Alagnak's easy stretches.
The Kvichak River: our favorite Alaskan river because it's our home. We've made the Kvichak our base because it's beautiful, productive and supports the world's largest red salmon run.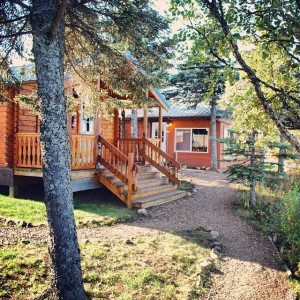 About the Lodge
Main Lodge
No See Um Lodge is built on a high bank overlooking the Kvichak River with guest cabins. In our main lodge building, we have a kitchen, dining room, lodge office, TV viewing area and a pro shop. The guest houses have a total of six bedrooms, each equipped with two beds and a complete bathroom. A lounge with bar and wood stove enhance the comfortable setting. After a full day of fishing, you can enjoy the relaxing and friendly atmosphere at the lodge while sipping a beverage and sampling delicious appetizers before dinner.
Amenities: Gazebo, Sauna, Hot Tub, 24/7 Electricity, WiFi, Television and an Open Bar
Main Guest Cabin
Sleeping 8 guests, the main guest cabin is our largest cabin. The cabin has 4 bedrooms and bathrooms, a large living room, stocked bar, fireplace and wader room. Each of the four bedrooms have two twin beds and a private bathroom. The living room is where most guests will gather at the end of the day to sit by the fire, have a drink, enjoy an appetizer or even start a card game.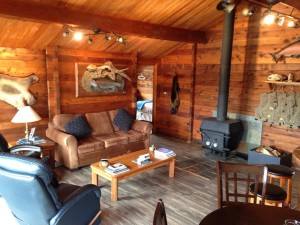 Riverside Cabins
The riverside guest cabins are both connected by a boardwalk which will take you straight to the hot tub and sauna. The 2 honeymoon cabins are cozy one bedroom buildings that sleep 2 guests. Included is queen and twin beds, sitting area, refrigerator and a private bathroom. Riverside windows ensure that you have a beautiful view from within the whole cabin.
We bring the highest level of luxury to you. From gourmet meals and fine dining to entertainment and lodge amenities, we ensure your trip is complete.


No See Um Lodge Rates
Rates for 2017 are $9,500 per week from Anchorage, Alaska. With a maximum of 12 guests per week.
This rate includes:
Round trip airfare between Anchorage and King Salmon

Transportation from King Salmon to the lodge and back (on Monday's only)

All lodging and meals throughout the week

All flies and other terminal tackle. Loaner waders, boots, rods and reels are available if needed.
Float Plane Transportation
No See Um owns and operates three of the finest examples of the De Havilland Beaver. This famous bush plane is the backbone of most fishing operations and has become the preferred aircraft for operating in and out of small lakes and rivers.
Our fleet of three DeHavilland Beavers goes out with a maximum of four anglers and is committed to those anglers all day. We have the ability to fish more than one location in a day and always have the option to "head in for cocktails" if the weather or an emergency pushes the issue. On days that weather doesn't allow for safe flight, we have the option to use boats to access our home water, the Kvichak.
| | | |
| --- | --- | --- |
| N99NL | N65223 | N1487 |
| N99NL was build in 1967. It started as a crop duster in Australia. We bought the remains in 1998 and had her completely rebuilt. The rebuild including the Alaska Door, three window cabin extension, electric flaps and Vortex generators. As of 2012, we have flown 9NL over 2000 hours. | N65223 was built in 1954 and delivered to the US Army in 1956. Used as a trainer until 1974 and purchased by us in 1980. After getting her to Alaska, we installed a new engine, interior and floats. She has proven over the years to be a very solid, excellent performing aircraft. | N1487 was built in 1961 and delivered to the Republic of Ghana. It appeared in Cairns, Australia as an air taxi float plane. We bought her in 2008, finished in 2011 and put into service. She has just over 3,000 total flight hours making her possibly the lowest time beaver in the world. |
2016 fishing Season is open for booking and we're looking forward to your visit at No See Um Lodge